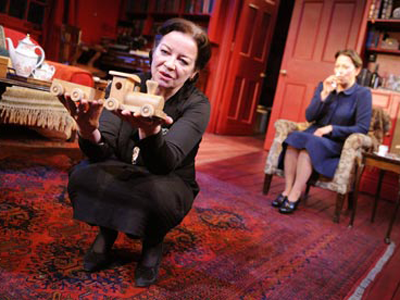 Mrs Klein
The Almeida, Islington
Few plays these days can claim to be tight-knit, well-made and plausible.
Mrs Klein
, however, is both traditional and fresh. Its conventional form and presentation may initially appear unimaginative, but their real import is exposed as they gradually reveal Mrs Klein's dysfunction. As it wriggles and squirms against the boundaries of acceptability, she attempts to sustain herself as an acceptable woman.
Tim Hatley's set provides a backdrop of oppressive red opulence. This narrows and constricts the space and works well in tandem with the obsessive self-focus of Mrs Klein, her daughter Melitta and - although for a time cleverly disguised - her assistant Paula.
Clare Higgins is a superb and intricate Mrs Klein; every avenue of character is thoroughly considered and we feel as though a more fully rounded performance could not be demanded. Likewise, Nicola Walker's Melitta and Zoe Waites' Paula are dually frustrating and sympathetic.
Mrs Klein, based on the real psychoanalyst Melanie Klein (who died in 1960), is both wise and incredibly naive. Her attempts to factualise fantasy via analysis, and her fixation with 'getting somewhere' prove to be her downfall, and ultimately more important than confronting her responsibilities to her daughter. Thea Sharrock's production is a very fine realisation of a play with characters blighted by their addictions to truth, analogy and love. For the most part, the plot falls into place very naturally, yet it's ending seems more like a coda than an ending completely integrated with what precedes it.
Helena S. Rampley
Read Helena's interview with
Mrs Klein
playwright Nicholas Wright
HERE