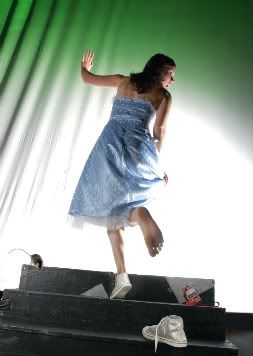 Cinderella
Jacksons Lane, Highgate
It may be easy to presume that you know the story of
Cinderella
and find it hard to believe that you could be surprised by a production of it. But then you obviously haven't been along to Jacksons Lane to see their contemporary version of the classic fairytale complete with a Dr Martins wearing heroine.
Sending the damsel in distress hurtling forward in time, we are presented with Cinderella as a schoolgirl not scrubbing floors for a wicked step mother but trying desperately to fit into a school full of talented acrobats and magicians. Dr Kane is the resident Mr Nasty, headmaster of the school with a Cowell-esque disregard for anyone who he doesn't feel has talent. And, unfortunately for Cinders, she is one of these.
Cinderella is a fun and impressive production that is perfectly pitched at children of all ages without talking down or patronising them. Jam packed with bright colours, fast music and impressive stunts, it manages to keep the predominately young audience entertained for the 90 minute duration while giving a nod to the accompanying adults with satirical digs at Britain's obsession with reality TV/telephone voting shows. Stacha Hicks' Cinderella is adorably naïve as she tries to find her way while pursuing Victor (Christian Lee), the Prince Charming star pupil whose ingenious magic tricks are spell bounding.
Largely deviating from the original plot, key elements are retained making the central plot recognisable. Kaveh Rahnama and Lauren Hendry, who make up So & So Circus on the side, are a male-female ugly sisters whose acrobatic and clowning routines draw gasps from the assembled crowd.
Cinderella
isn't rocket science and it isn't going to create an Osborne style revolution in British theatre. It is, however, thoroughly exciting and entertaining which is exactly what you want at Christmas.
Phil Burt
Cinderella
runs at Jacksons Lane until 3rd January 2010